CONFERENCE – Lighting & the Circular Economy
Recolight have taken the decision to postpone our conference which was planned for 22 October.
We may host an event next year when it would be safer for all to meet.
We are hosting a series of Webinars this year, looking at the topics that were planned for the conference
---
A Recolight Conference to discuss the ways that the lighting industry can shift successfully towards a Circular Economy, engaging the principles of reduce, re-use, recycle for lighting products.
Why this is important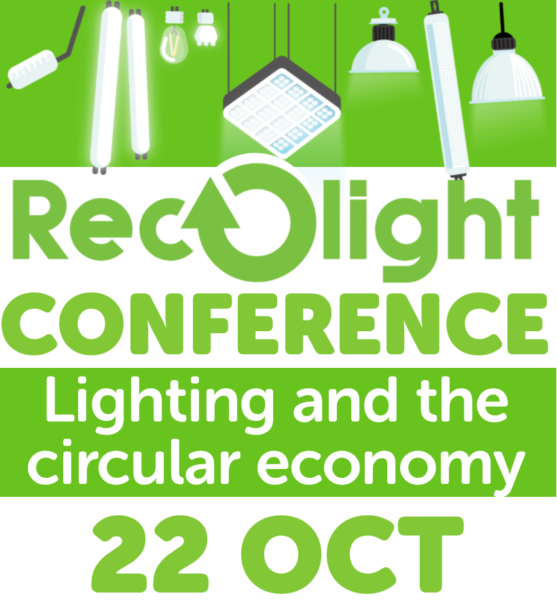 Transformation to a circular economy is increasingly being seen as essential if manufacturing is to be sustainable.  This will become ever more important as demand for resources rises, and energy costs increase.
With changes to legislation, lighting producers should start considering how some of the principles might be included in the products they design and manufacture.  The earlier companies start, the more likely they are to be able to meet/exceed the new requirements. Those companies that have embraced a circular approach are likely to be more competitive.
An agenda to cover all aspects of the Circular Economy
The Recolight team have worked with Ray Molony, John Bullock, Simon Fisher and our Producer Members to create an agenda to cover all aspects of the Circular Economy for lighting.
The conference will be introduced and chaired by Ray Molony.
We start the day by introducing the Circular Economy, learning about the opportunities and the recyclers perspective.
Defra, LightingEurope and Recolight will cover legislation; what you need to do now and future legislation for UK and the EU.
John Bullock of The Light Review will challenge you all to be more sustainable.
The afternoon  starts with an end user panel discussion led by Ray Molony
We finish by hearing from Lighting Designers and Lighting Producers who have adopted Circular Economy principles in their product design.
Who should attend
The conference agenda has been designed for the lighting industry and end users.
WHEN & WHERE
DATE: Thursday 22 October
TIME: 9:30 for registration, 10:00 start, 16:20 close
PLACE: THE CRYSTAL, ROYAL VICTORIA DOCK, LONDON E16
COST: Free to Recolight Producer Members,
£75 for all other attendees
Supported by the Lighting Industry Association
Chaired by Ray Molony
To discourage air travel, this event will be live streamed.
Please follow this link to register, we will email the link to you.

Subject to small amendments
9:30-10:00         Registration and coffee
10:00-10:10       Introduction from Ray Molony
10:10-11:10     Setting the scene
Size, barriers and opportunities
Owain Griffiths, Business Director, Oakdene Hollins
Sky: Adopting Circular Economy principles in consumer electronics
Bill Skeates, Senior Compliance & Sustainability Manager, Sky
The recyclers experience; the challenges of recycling electrical products
Russell Hirst, Managing Director, Wiser Environment Ltd
Panel Q & A
11:10-12:10      Legislation
Overview of Defra's strategic aims for a circular economy
Maya de Souza,  Head of Circular Economy Policy & International Engagement Team, Defra
How EU laws and policies on sustainability are impacting lighting products
Ourania Georgoutsakou, Secretary General, LightingEurope
Impacts of the Waste Directive, WEEE, waste packaging and battery legislation
Nigel Harvey, CEO Recolight
Panel Q & A
12:10-12:30      Challenging the lighting industry to be more sustainable
                                John Bullock – The Light Review
12:30-13:30     Lunch
13:30-14:15     End user and other perspectives
The EU Repro Light Project – our promise to the future
Helen Loomes, Business Development Director, Trilux
The ReLit project
Michael Grubb, Creative Director of Michael Grubb Studio
Panel Q & A
14:15-14:45    The end user's perspective: A panel discussion chaired by Ray Molony  with:
Peter Fordham, Electrical Engineering Manager, Sainsbury's,
Russell Sweeting White, Network Rail,
Daphne De Leener, Sustainability Consultant , Guys & St Thomas NHS Trust
Chris Barnes, Maintenance and energy manager, Southbank University, 
14:45-15:00    Coffee break
15:00-16:15     Producer perspective
Consume less, waste less. A journey of discovery: the process of working with Feilo Sylvania
Simon Fisher, Director, F Mark Ltd
Innovation, sustainability & the circular economy
Richard Garrett, Marketing Manager, Signify
The use of sustainable raw materials based on renewable resources
Lukas Platt, Sales & Marketing, Elkamet and Russell Parr, Sales & Marketing Director, Primelight
Upcycling obsolete luminaires by integrating future proof lighting solutions
Andrew Nixon, Design Director, Gamma Illumination
Panel Q & A
16:20               Close –  Nigel Harvey, CEO Recolight